Tim and Dena Stromstad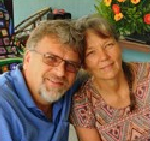 Founders of Homes of Life, Tim and Dena
We began our mission work in 1988 when we were sent to Haiti to help lay the foundation for ministry there.
In 1990 we moved to Guatemala where we studied Spanish and helped at an orphanage.
In 1992 we had the opportunity to start a children's home in San Andres, Sajcabaja.
In 1995 the Lord moved us to Costa Rica to start another home. We now have three homes here on an expanded and much improved campus.
We partner with Children of Promise International.
Children of Promise International
77 W Elmwood Dr. Ste 112,
Centerville, OH 45459-4263.

Join us in this adventure of serving the King!