Can You Help Replace the Truck?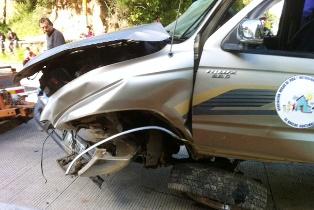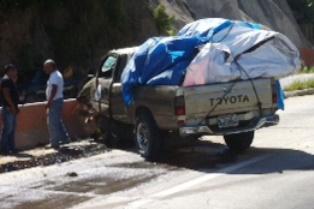 Friends, family and supporters, please view the pictures of our totaled 2002 Toyota Hilux extra cab pickup.
It is truly a miracle that no one was seriously injured in that accident, don't you agree? Praise and thanks to God for His protection!
This is what happened. Norm was driving a team from the capital city to our mission in San Andres. Jordan, our hired driver, and Julio, an adult resident from our home, were following him in our Toyota pickup when the front driver-side tire blew out. Fortunately, the blowout occurred on a straight part of the road and not on one of its many dangerous curves. The pickup pulled to the left and smashed into a solid concrete barrier. Looking at the massive damage to the vehicle, it would be difficult to believe no one was seriously injured. Even non-Christians who witnessed the event declared, "It's a miracle no one was killed!"
Because the pickup was not insured, we are facing an URGENT need to raise $13,000.00 to purchase a replacement five to six year old vehicle. We were able to recoup $2,000.00 by selling the wreckage for parts, so that's a start. Can you help? Any amount will be much appreciated.
Please send your blessing via www.promise.org and earmark your gift "Guatemala Vehicle."
Thanks, in advance, for whatever amount you are able to contribute.
Yours for the Children,
Tim Stromstad